Gilead Sciences and IOCB Prague renew partnership
The Institute of Organic Chemistry and Biochemistry of the CAS (IOCB) and Gilead Sciences announced today that the Gilead Sciences Research Centre (GSRC) at IOCB has been extended to address areas of high unmet medical need. Gilead Sciences will provide funding and collaborate on several projects at IOCB across virology, inflammation, and oncology.
The GSRC partnership programme arose out of a unique collaboration between IOCB Prague and Gilead Sciences, Inc. dating back to the 1990s, when Gilead licensed several nucleotide analogue compounds discovered by Czech chemist Antonín Holý from IOCB Prague. As a result, three of these compounds (cidofovir, tenofovir, and adefovir) were successfully developed into multiple drugs that are now improving the quality of life for millions of people living with HIV/AIDS and hepatitis B (HBV) around the globe.
"With Gilead Sciences, we share not only a successful past that helped revolutionize the treatment of HIV and chronic hepatitis B but also, I believe, a future that will prove no less interesting," says Prof. Jan Konvalinka, director of IOCB Prague. "In addition to the licensing fees for the HIV and HBV drugs, for 15 years now, Gilead has supported selected projects of our researchers at GSRC focusing on development of novel therapies. I'm very pleased that it will continue to do so," Konvalinka adds.
"At Gilead, we are focused on identifying and developing innovative medicines that help address the unmet needs and aim to improve the lives of people around the world, which is why we are committed to continuing our partnership with IOCB," says Tomáš Cihlář, Senior Vice President Research, Virology at Gilead Sciences. "We are working towards the goals of ending the HIV epidemic, eliminating viral hepatitis, and advancing antiviral pandemic preparedness, and strong research partnerships such as the GSRC at IOCB are key to helping achieve these goals."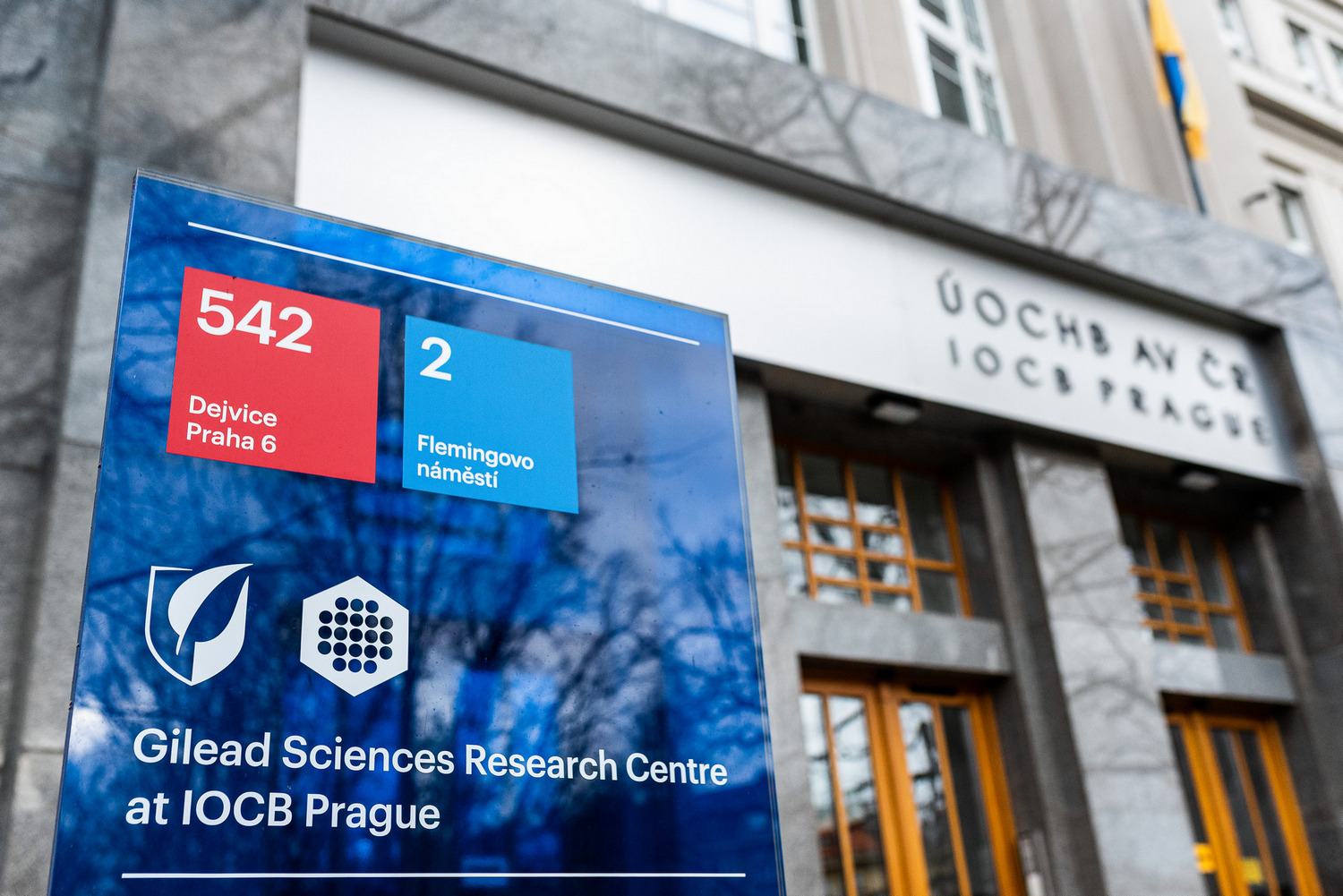 The Gilead Sciences Research Centre at IOCB Prague was first established in 2006. For a period of five years, Gilead donated more than 1 million USD annually to selected research groups at IOCB Prague to support innovative research in the field of human disease research. Since then, the programme was renewed twice in 2011 and 2016 with increased funding of $1.35 million annually. Gilead and IOCB also established the Gilead Distinguished Chair in Medicinal Chemistry, with Antonín Holý being the first to hold the position. The original donation also allowed IOCB to sponsor the prestigious Gilead Fellowship in Medicinal Chemistry for post-doctoral visitors and the Gilead Stipend for Ph.D. students.
About IOCB
The Institute of Organic Chemistry and Biochemistry of the Czech Academy of Sciences (IOCB Prague) is a leading internationally recognized scientific institution whose primary mission is the pursuit of basic research in chemical biology and medicinal chemistry, organic and materials chemistry, chemistry of natural substances, biochemistry and molecular biology, physical chemistry, theoretical chemistry, and analytical chemistry. An integral part of the IOCB Prague's mission is the implementation of the results of basic research in practice. Emphasis on interdisciplinary research gives rise to a wide range of applications in medicine, pharmacy, and other fields.
About Gilead Sciences
Gilead Sciences, Inc. is a biopharmaceutical company that has pursued and achieved breakthroughs in medicine for more than three decades, with the goal of creating a healthier world for all people. The company is committed to advancing innovative medicines to prevent and treat life-threatening diseases, including HIV, viral hepatitis and cancer. Among other drugs, Gilead developed Remdesivir, a broad-spectrum antiviral medication originally intended to treat hepatitis C and used as post-infection treatment for COVID-19. Gilead operates in more than 35 countries worldwide, with headquarters in Foster City, California.
For more on the activities of IOCB Prague and the advancement of HIV/AIDs treatment, check out our past articles:
The Fascinating Story about Suppressing HIV
The Czech Academy of Sciences tests samples, develops protective materials and advises with economics
An investment fund created. It will support innovative scientific projects
IOCB's lutetium separation method will facilitate treatment of cancer
---
Prepared by: IOCB of the CAS, press release; Tereza Novická, Division of External Relations, CAO of the CAS
Photo: IOCB of the CAS
The Czech Academy of Sciences (the CAS)
The mission of the CAS
The primary mission of the CAS is to conduct research in a broad spectrum of natural, technical and social sciences as well as humanities. This research aims to advance progress of scientific knowledge at the international level, considering, however, the specific needs of the Czech society and the national culture.
President of the CAS
Prof. Eva Zažímalová has started her second term of office in May 2021. She is a respected scientist, and a Professor of Plant Anatomy and Physiology.
She is also a part of GCSA of the EU.