Czech Intellect award for CAS for unique methane to methanol transformation
Methanol is a colorless liquid with a distinctive alcoholic odor. The scientists from the J. Heyrovský Institute of Physical Chemistry of the CAS have now created and described a new way to produce it cheaply. For their discovery, they received the Czech Intellect award in the Invention category. If methanol can be produced economically, it could partially replace existing engine fuels.
Methane and methanol. The first is a non-toxic, colorless, and odorless gas. The second is a colorless liquid. Jiří Dědeček, Edyta Tabor and Štěpán Sklenák from the J. Heyrovský Institute of Physical Chemistry of the Academy of Sciences of the Czech Republic obtained and described the new and unique reaction centers that can activate molecular oxygen in a previously unknown way by splitting it. Subsequently, activated oxygen can be used to oxidize methane to methanol, which offers wide application as a raw material for chemical production or as an alternative fuel.
Room temperature is enough
Methane is a major component of natural gas, it is cheap and easily available in large amounts. But the transport and storage of gas is much more complicated than e.g. crude oil. Simply, gas is more difficult to handle than liquid.
However, Jiří Dědeček's team can convert methane to methanol using molecular oxygen. "The direct oxidation of methane to methanol by molecular oxygen is a way to significantly reduce the cost of methanol production and brings us closer to obtaining technologies for the production of cheaper fuels and many other industrial products," says the chemist.


Jiří Dědeček, Edyta Tabor and Štěpán Sklenák (from left to right)
The new method is based on the cleavage of molecular oxygen. It occurs through two transition metal cations (such as iron) that are about seven ten-millionths of a millimeter apart. "We managed to activate molecular oxygen by splitting it, even at room temperature, which no one has been able to do yet," notes Jiří Dědeček. Due to its high reactivity and low cost, such cleaved oxygen could become the key to many chemical production technologies.
Development for the next ten years
A material called zeolite plays a crucial role in the process described. "Simplifying, zeolite is perforated quartz, which uniqueness lies in the fact that the silicon and oxygen atoms form an interconnected structure of channels and cavities into which smaller molecules can fit. As reaction centers are present in its channels, zeolites become an ideal material for use in catalysis," explains the scientist.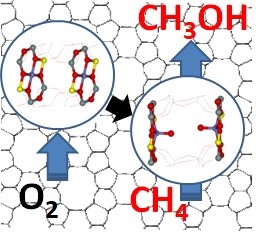 Direct methane (CH4) to methanol (CH3OH) oxidation by molecular oxygen (O2)
He does not want to speculate too much about whether the new method will find practical application. According to him, however, negotiations have already begun with the commercial sector.
"So far, we are merely at the beginning. We believe that our discovery could be used as the basis of technology, but for now we cannot predict it for sure. With this discovery, we opened the possibility for the development of technology for the application of methane. The development itself may take another five or ten years."
A team of researchers from the J. Heyrovský Institute of Physical Chemistry of the ASCR received the Czech Intellect 2020 award in the Invention category for their discovery. The competition is announced annually by the company Česká hlava together with the Office of the Government of the Czech Republic. Jiří Dědeček was pleased to receive the award: "It is our privilege and obligation to get into the respectable group of people, who have received the award in the past. We are really happy with the whole team that worked on this discovery, it's not just the three of us." 
Text: Jan Klika, DVV SSČ AV ČR, Daniel Jakeš, J. Heyrovský Institute of Physical Chemistry of the CAS
Translation: Edyta Tabor, J. Heyrovský Institute of Physical Chemistry of the CAS
Foto: Shutterstock, J. Heyrovský Institute of Physical Chemistry of the CAS, Jiří Dědeček