"We will cooperate," the Academy of Sciences agreed with its Israeli counterpart
"We will cooperate," the Academy of Sciences agreed with its Israeli counterpart
Thu Jun 29 11:41:53 CEST 2017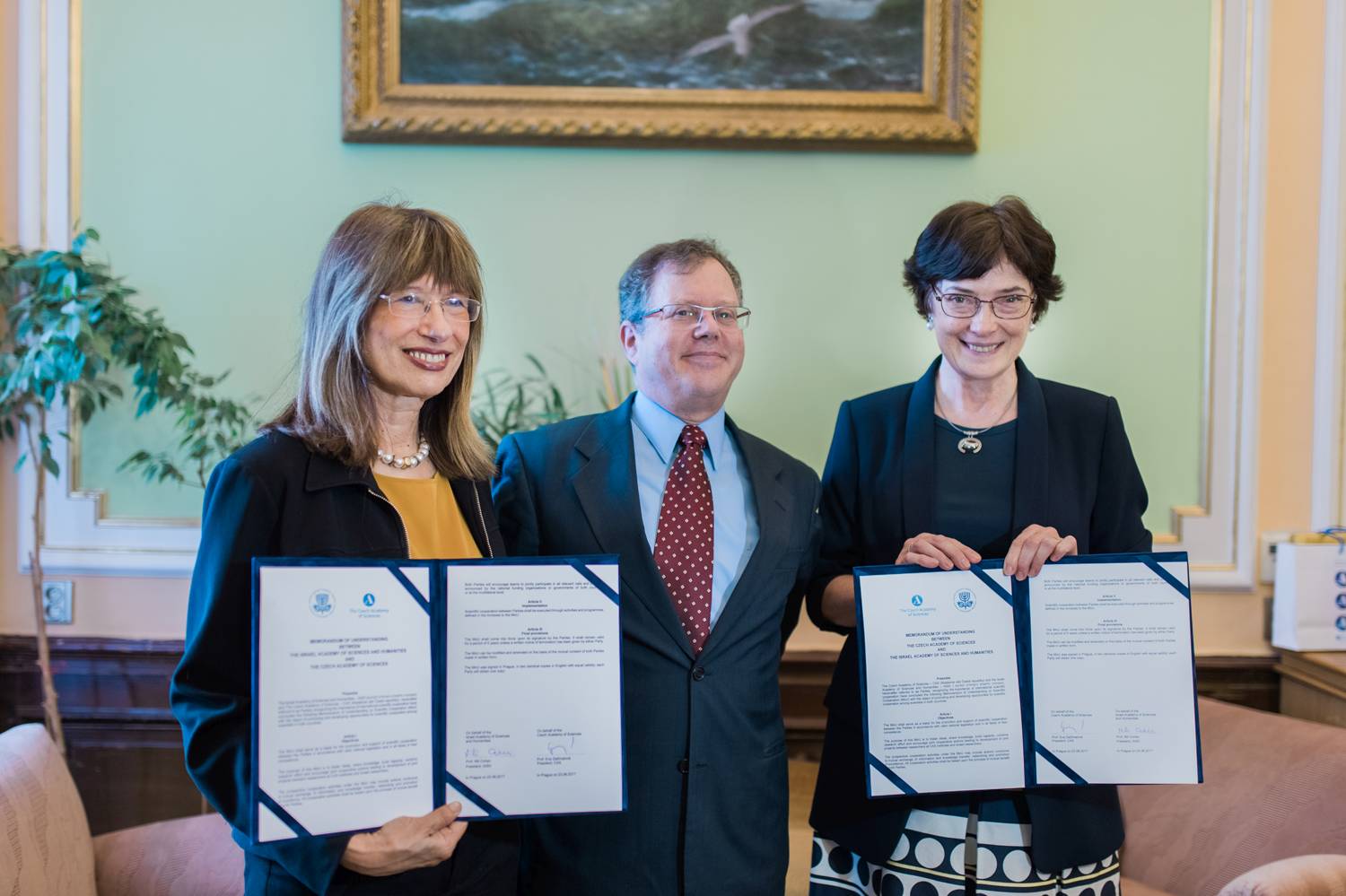 Internships of talented students in Jerusalem or Tel Aviv, international symposia, scientific conferences and the close collaboration of research teams. All of this will be easier thanks to a memorandum, which was signed on Friday, 23 June 2017 by the Czech Academy of Sciences and the Israel Academy of Sciences and Humanities.
The ceremonial signature was attended by the heads of both institutions, Professors Eva Zažímalová and Nili Cohen. "Israel is one of the scientifically most productive states. They have a great number of Nobel Prize laureates, a large number of the bearers of prestigious grants of the European Research Council and many contacts, which is an enormous advantage. Nevertheless, both sides will profit from this," said president of the Czech Academy of Sciences Eva Zažímalová after signing the contract. The memorandum was supported also by the presence of the Israeli ambassador Daniel Meron and Arnošt Marks, Vice President of the Governmental Research, Development and Innovation Council.
"When I met with Eva in Jerusalem in the spring, we immediately caught one another's eye. We later learned that one contract on cooperation already exists, but it is already out of date. So, we decided to renew it. Might there be a better occasion than to do it in Prague, a place so connected with Jewish history?" said Nili Cohen, originally a lawyer by profession. She pointed out that the Israel Academy of Sciences and Humanities is not a scientific institution in the classical sense, but rather a "friendly organization".
"We have a lot in common, among other things, that we are both the second female president in the history of their institutions, which are predominantly influenced by men. We have only fifteen women among the one hundred and twenty of our members," Cohen added, referring to her replacement two years ago in the leading role of the biochemist Ruth Arnon, who dealt with research of multiple sclerosis and was involved in the development of the medicine Copaxon. At the same time, Cohen is a very respected lawyer; she was also a long-time rector of Tel-Aviv University.
The first official visit of Cohen in Prague heralded another significant event, the arrival of the Israeli Minister for Science, Technology and Space Ofir Akunis, who came at the invitation of Vice Prime Minister Pavel Bělobrádek and have a joint appearance on Monday.
Prepared by: Alice Horáčková, Department of Media Communication of the CAS
Photo: Pavlína Jáchimová