Titul Doctor of Science pro profesora Libora Grubhoffera
Titul Doctor of Science pro profesora Libora Grubhoffera
Tue May 17 12:10:00 CEST 2016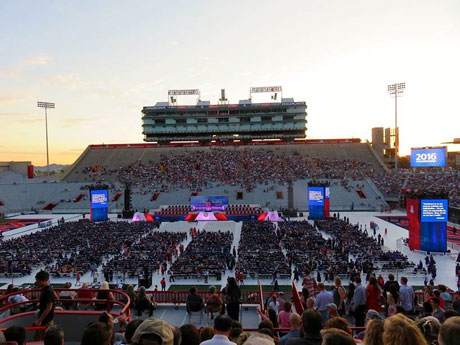 Na návrh College of Science a College of Agriculture & Life Sciences Arizonské univerzity byl prof. Liboru Grubhofferovi udělen čestný titulDoctor of Science za celoživotní inspirující výzkum v oblasti přírodních věd, zlepšování infrastruktury potřebné pro vědu a výzkum a rozvoj nových studijních programů nejen pro české studenty. Titul převzal13. května 2016 naArizonské univerzitě v Tucsonu na jihozápadě USA. Slavnostnímu aktu přihlíželo přes 40 000 diváků. Prof. Grubhoffer je autorem více než 90 publikací v impaktových časopisech, od roku 1991 je vedoucím oddělení/laboratoře molekulární ekologie parazitů Parazitologického ústavu BC AV ČR, kde se podílí na objevech týkajících se boje protiklíšťatům jako přenašečům lymeské borreliózy a klíšťové encefalitidy.
Foto: Bohuslav Dvorak,  Lékařská fakulta University of Arizona 
Při promoci více než čtyř tisíc studentů University of Arizona byly uděleny pouze tři čestné doktoráty. Spolu s prof. Grubhofferem převzal titul např. i současný ministr zdravotnictví USA.