The third annual music academic festival: a change of date and better weather
The third annual music academic festival: a change of date and better weather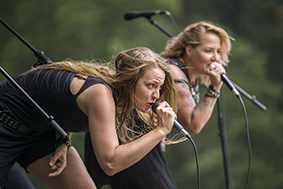 In the Průhonice Park on Sunday, the third annual A-Fest in Park academic music festival ended. The one-day show took place for the first time in June, which proved to be a good choice as against the previous autumn dates. The weather was good for the musicians from the ranks of the semi-professional and amateur performers, which was also reflected in the attendance.
The festival, where classical music, death metal, country, jazz and rock-and-roll meet one another, was attended also by President of the Czech Academy of Sciences Eva Zažímalová, whom the moderator Jan Martinek "pulled" even up on stage.
"Music and science complement one another well and I am glad that I can hear it all. I have a personal relationship to music; I myself sang in my childhood in the Kühn Children's Choir and thanks to that I then received even children's roles in the National Theatre. I was an alto, which is not entirely common," stated Zažímalová.
President of the CAS Eva Zažímalová, founder Joe Lazar (left), interviewed by the moderator Jan Martinek
Along with the President, the visitors were also greeted by Joe Lazar, a member of the Academy Council, who founded the festival and performed at it with the groups Lodníce (Sailors) and the ISI band. "I did not expect so much excellent music at one place," said Lazar.
Thirty-three musical ensembles alternated on four stages; performances were heard at the Small Chateau Courtyard, in the Knights' Hall and in the Subalpine Meadow.
Prepared by: Department of Media Communication of the CAS
Photo: Viktor Černoch