Could a lipid molecule prevent Alzheimer's disease?
Could a lipid molecule prevent Alzheimer's disease?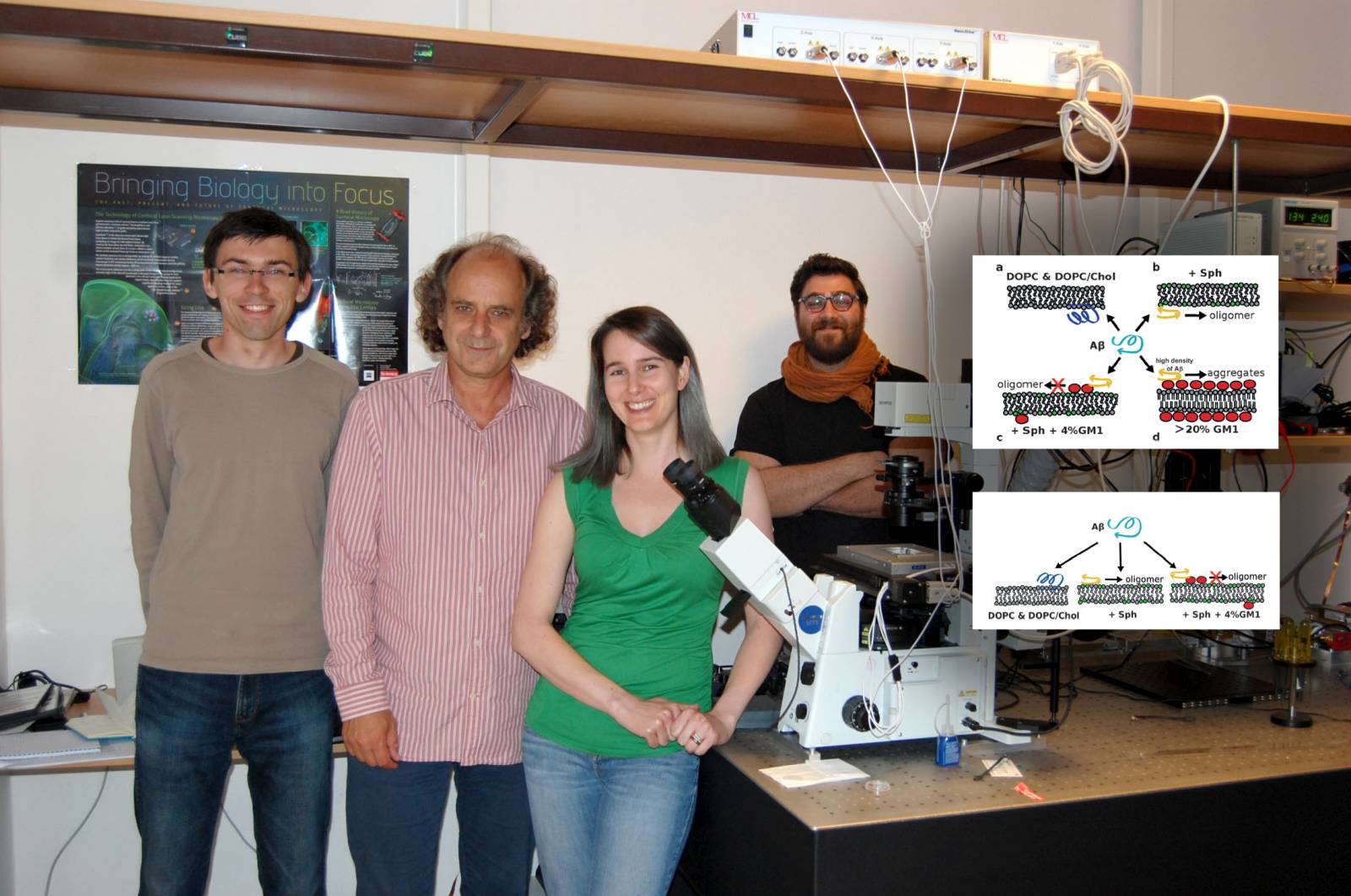 The international group of Prof. Martin Hof at the J. Heyrovsky Institute of Physical Chemistry, CAS, unravelled the role of lipid molecules in a key process involved in the onset of Alzheimer's disease. The brand new insight intothe molecular mechanisms involved in Alzheimer's disease was possible by using single molecule fluorescence techniques developed in the group.
Alzheimer's disease is the most common form of dementia whose development is connected to the oligomerisation of the amyloid Aβ peptide in the brain. The oligomerisation can be catalysed by the membranes of neurons. Neuronal membranes are rich in so called "sugar lipid", the monosialoganglioside GM1. Using ultrasensitive fluorescence techniques, the group demonstrated that physiological levels of GM1 inhibit the oligomerisation of Aβ monomers. Thepaper helps to rationalize data found in vivo on the neuroprotective role of GM1 and gives the first molecular evidence for GM1 as an inhibitor of Aβ's oligomerisation.
Importantly, levels of GM1 in the brain decrease with age which could lead to a reduced protection against the oligomerisation of Aβ and contribute to Alzheimer's disease onset. The outcome of these experiments improves the understanding of disease progression and of how neurons handle amyloid peptides in healthy humans. Understanding of the general mechanism of inhibition of Aβ's oligomerisation by GM1 might also prove useful in developing novel, more effective therapeutic approaches.
The group of Martin Hof is a leading research unit in the development of fluorescence techniques and, especially, their application in biophysical research. The current research was initiated by Dr. Mariana Amaro, a Portuguese scientist working since 2011 in the J. Heyrovsky Institute with experience in Aβ oligomerisation. The team at the J. Heyrovsky Institute further consisted of Dr. Radek Sachl, a Czech scientist who develops new fluorescence techniques and the Turkish technician Gokcan Aydogan. Dr. Robert Vacha (Masaryk University, Brno) performed computer simulations that were important for the molecular understanding of the results, and Dr. Ilya Mikhaylov (Shemyakin-Ovchinnikov Institute of Bioorganic Chemistry, Moscow) supplied commercially unavailable chemical probes.
Alzheimer's disease, the most common form of dementia, affects nearly 44 million people worldwide. The disease is currently incurable and therefore the number of patients continuously increases. This leaves us with one of the biggest global public health and social care challenges facing people today and in the future.

PUBLISHED ONLINE: 13. 06. 2016 | DOI: 10.1002/anie.201603178
"GM₁ Ganglioside Inhibits β-amyloid Oligomerization Induced by Sphingomyelin"
Mariana Amaro, Radek Šachl, Gokcan Aydogan, Ilya I Mikhalyov, Robert Vácha and Martin Hof
********************************
For more information please contact :
Dr. Mariana Amaro and Prof. Dr. Martin Hof, DSc., ÚFCH JH AV ČR, Dolejškova 3, 182 23 Praha 8, tel.: 266053142, amaro@jh-inst.cas.cz and hof@jh-inst.cas.cz