Aktuality
Aktuality
Tue Jun 20 10:44:11 CEST 2017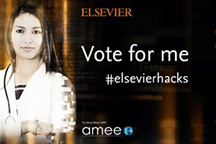 Of the 1500 applicants from the whole world Eliška Selinger has managed to go through all the way to the finale of the Elsevier Hackathon in Helsinki. The event aims to bring together medical students, programmers, graphic designers and developers from around the world with the task to develop within 48 hours innovations in the form of a program, application, website or perhaps virtual reality to help overcome any hurdle in medical education. The Elsevier Hackathon takes place in collaboration with the International Association for Medical Education and is part of the Association of Medical Educators Conference.
"In the first round, the task was to complete a short questionnaire, in the second to filma video about myself and the obstacles I would like to solve. The last and final round is the public vote on selected videos. A total of 95 medical students advanced to the final round, but the Hackathon only has 16 places. Every vote is really important," explains Eliška Selinger.
In 2016, Eliška Selinger became a finalist in the FameLab 2016 competition in the Czech Republic, she enthralled the jury with her excellent performance called 50 Shades of the Epigenome. "I try to take up every theme in a fresh, fun and yet nonconflicting way, which seems to suit most listeners," adds the young scientist. 
Eliška Selinger is a research employee of the science centre BIOCEV within the Institute of Molecular Genetics of the CAS, where she concentrates on research of epigenetics and the immunology of tumours. She is also a student of General Medicine at the Third Faculty of Medicine of Charles University and also devotes herself to research of alternative nutrition.
You can see the video and vote until midnight on 22 June here.
Prepared by: Department of Media Communication of the Head Office of the CAS
Photo: Elsevier Hackathon