Aktuality
Aktuality
Thu Jun 29 11:37:54 CEST 2017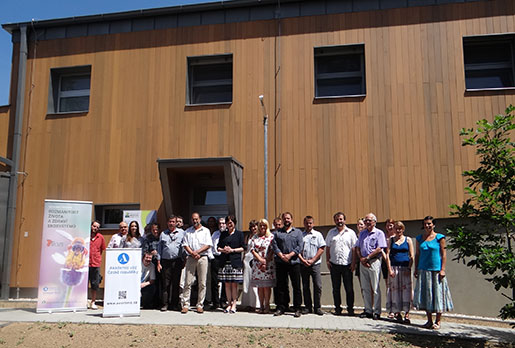 The President of the Czech Academy of Sciences, Professor Eva Zažímalová, ceremonially opened the new breeding facility of the Institute for Vertebrate Biology. It is at a detached workplace in Studenec in Vysočina (Bohemian-Moravian Highlands), its construction took two years and came to CZK 38 million.
The new breeding facility will deal with experimental research, concerning especially the emergence of species, thermal ecology, reproductive mechanisms and the study of life strategies on model species of vertebrates, such as the evolution of ageing in birds.
The results of experimental research under the controlled conditions of this unique breeding facility can provide valuable insights. In particular, study of the emergence of species is crucial for protecting biodiversity and the unique collection of wild strains of mice, which will be available here, also offers a wide range of uses in medicine. A study of the reproductive mechanisms and pairing systems can help explain the emergence of infertility and find a way to avoid it. The results of thermal ecology research can help us to predict much better the impact of the intensive changes on the individual ecosystems by which man is transforming contemporary nature. Understanding the temperature-physiological dependencies of model organisms can then lead to a better overcoming of the risks of global climate change. Part of the detached workplace in Studenec is also a modern molecular-genetic laboratory.
Prepared by: Department of Media Communication of the CAS in cooperation with the Institute for Vertebrate Biology of the CAS
Photo: Institute for Vertebrate Biology of the CAS